Spirit of Enterprise 2017 Honouree
Speed Credit, Cars & Stars and Ace Drive Team would like to congratulate our Founder and Managing Director, Mr. Jesse Tan, for being one of the honourees of the Spirit of Enterprise (SOE) Award 2017!
The Spirit of Enterprise (SOE) award is an annual national award conferred to deserving business entrepreneurs to honour their outstanding achievements. It aims to recognise local entrepreneurs' courage, perseverance, and innovation in their journey of entrepreneurship. In addition, it honours and inspire local entrepreneurs for their significant contributions to the Singapore economy, employment and society. Since its inception, it has awarded many highly acclaimed enterprises such as Ya Kun Kaya Toast, Charles & Keith, Cordlife Group Limited and many established corporations.
These awarded entrepreneurs serve to become role models for young Singaporeans to emulate and to inspire the youths to take the bold step in becoming enterprising entrepreneurs.
Once again, congratulations Jesse, a truly deserved SOE honouree!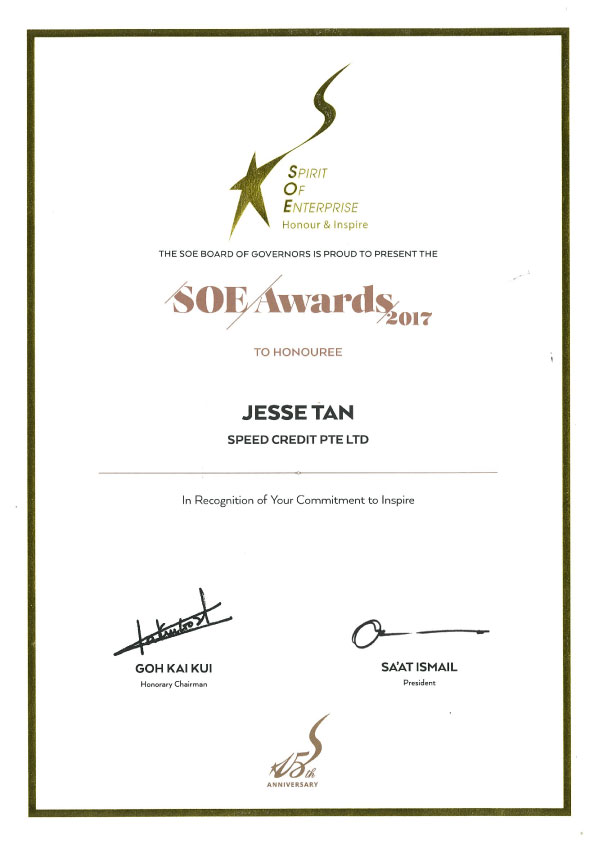 About Us
Speed Credit Pte Ltd was established back in the year 2000, and specialized in automotive financing initially. Over time, Speed Credit branched out to be an importer and wholesaler of cars, eventually growing to be a major player in the Singapore car import industry.
In 2007, Cars & Stars Pte Ltd was formed, a retail car boutique who made its presence felt in the burgeoning retail car market. While Ace Drive is a luxury and exotic car rental company incorporated in 2010. The history of all three companies go all the way back since Speed Credit Pte Ltd was first formed.