Are you looking for a 2017 COE trend prediction?
Don't you agree that it can be overwhelming with so much information about Certificate of Entitlement (COE) on the internet? This article is here to help you to have a better idea on what actually affect COE prices and how the trend would look like in 2017. Speed Credit receives few thousands COE renewal applications each year and we are always happy to help and advise our customers when to renew COE and help them to save with a lower possible COE premiums.
In order for us to know what affect COE prices and what to expect in 2017, we will first have to look at the COE price history in 2016.
COE price history (2016)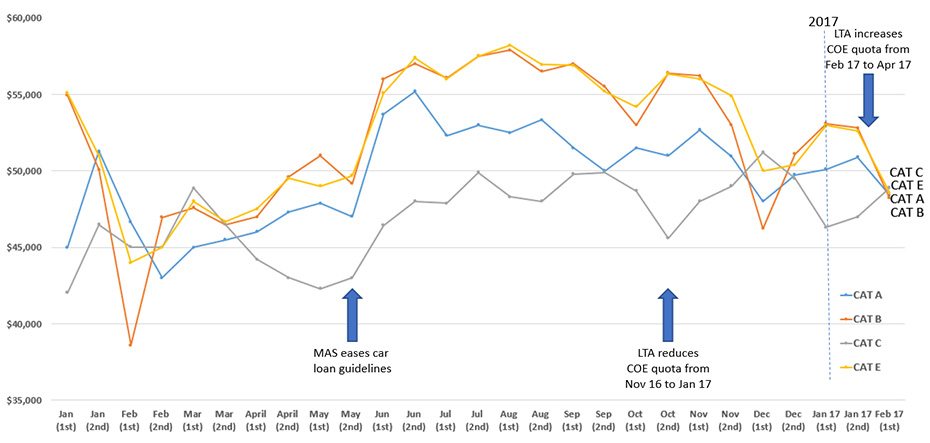 As you can see from the graph, COE prices were on the rise since March 2016. This was partly due to few changes in regulations.
Ease of borrowing – The Monetary Authority of Singapore (MAS) announced on 26 May 2016 that the maximum loan-to-value (LTV) ratios and loan tenure allowed for auto loans to be eased. Buyers can now borrow up to 70% of the purchase price and with a longer loan tenure of 7 years. As for private-hire vehicles (e.g. Grab/Uber), the loan amount is much higher, they are able to borrow up to 90% and with loan tenure up to 10 years.
| | |
| --- | --- |
| Buyer's name | Private-hire vehicles (e.g. Grab or Uber) |
| Borrow up to 70 per cent of the purchase price | Borrow up to 90 per cent of the purchase price |
| Loan tenure up to 7 years | Loan tenure up to 10 years |
This new regulation certainly reduces the deposit required for a new car, thus created an influx of demand for COE (Certificate of Entitlement) right after this new regulation was implemented
Quota cut – The Land Transport of Authority (LTA) announced on 12 October 2016 that COE quota for November 16 to January 2017 will be reduced as much as 8%.
COE Prices increased in the following bidding but dipped after. It is important to note that this did not affect the prices as much as the easing of car loan regulations.
COE prices did not exceed $60,000 in 2016
In a nutshell, the economy and the easing of car loan regulations affect COE premiums the most compared to changes in COE quota. The low interest rate in 2016 was also one of the factors that encouraged motorists to take up a car loan.
Despite new car loan regulation and cutting of COE quota, COE premiums did not exceed $60,000 like previous years. The reasons might be due to the economy uncertainly and many potential buyers were waiting for premiums to drop below $40,000 in 2016 but it did not happen. 
COE prices in 2017 (Prediction)
Although the Land Transport Authority (LTA) announced on 19 January 2017 that COE quotas will be increased from February to April 2017, we believe COE premiums will not crash but instead come down gradually in first half of the year. As proven in year 2016, the quota will affect the most in the following COE bidding after quota announcement, but not as much for subsequence COE biddings.
Car loan regulations – The last revised of car loan regulation as mentioned earlier was implemented in May 2016, hence is unlikely that there will be more changes in the near future.
Economy outlook / Interest rate– Singapore's economy is expected to be picking up but at a slow pace in 2017. As for interest rate, we foresee a slight increase of interest rate later this year.
Lesser COE biddings for Grab and Uber – Both Grab and Uber's presence in the market does play a part in COE prices. Both Grab and Uber have reached a mature growth stage this year, hence it will reduce the number of bids. Speed Credit also provides refinancing services / changing of car ownerships for Grab and Uber's drivers. Contact us for quick and easy way to refinance.
Lesser car deregistering in 2017 – What this mean is that lesser of number of Certificate of Entitlement (COE) will be back into the market for biddings.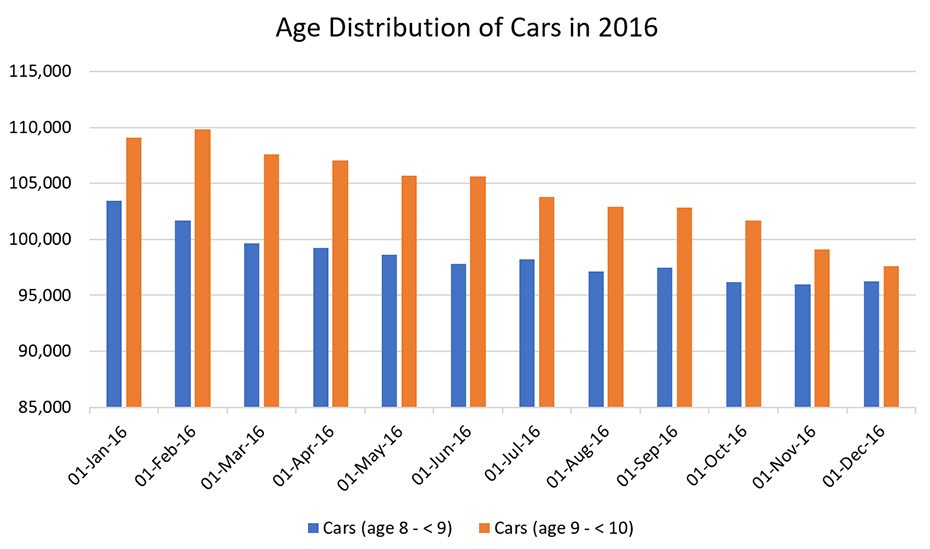 The blue bar in above chart shows Cars (age 8 -< 9) in 2016. In other words, these are the number of cars in 2017 which are due to renew their COEs or to choose to deregister/scarp.  The chart clearly shows that the amount of COEs due to expire in 2017 is lower compared to the year 2016. At Speed Credit, we continue to see an increasing number of motorists renewing their COEs with us. Our customers believe renewing COE is still cheaper and worthwhile than buying a brand new car. Moreover, they can continue driving their beloved cars and also be able to earn extra income driving for Grab and/or Uber.
What this tells us is that there is a high possibility that quota numbers up for biddings will not fluctuate much as lesser number of people are deregistering in 2017 compared to the year 2016. In other words, there won't be much of an increase of fresh certificates available for COE biddings, hence COE premiums will not fall drastically.
Off-Peak Car (OPC) – There have not been new incentives implemented to encourage more OPC cars in the recent years. It is unlikely that the Land Transport Authority (LTA) will encourage more OPC to be on the roads. A larger number of OPC certainly will increase the quality of life for many families while reducing the number of traffic during peak hours. However, this doesn't solve the problem of limited car parking in housing estates. There is also a dip in a number of motorists opting for OPC as they do not see much incentives in doing so. Most people still prefer to have the freedom to fully utilize their cars. This scheme was popular in the past when COE prices were low but this scheme is losing its popularity.
This year, we anticipate that COE prices should remain stable with a mix of positive and negative factors impacting the prices and should flatulate between the $45,000 to $50,000 range.
The interest rates for COE renewals should remain relatively low in first half of the year and should not rise by much towards end of the year.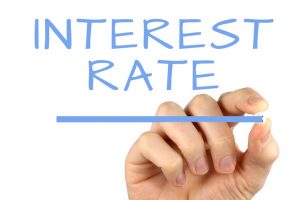 Is your COE expiring soon? Take advantage of the low interest rate and our service to monitor PQP results to renew your COE at the best time to save hundreds of dollars. We strongly encourage you to submit your loan application 3 months in advance to renew your coe at 100% COE loan amount or sign up a used car loan with us today.