Commercial Vehicle COE  Loan
Are you considering to renew your Commercial Vehicle's COE? As an auto finance company with over 17 years of experience, we are capable of offering you the most competitive in-house loan rate for the renewal of your commercial vehicle's COE.
Leave all the paper works and processes to our loan experts. We'll guide you through the entire process and offer you the best rate and service as well as the fastest approval for your loan.
We provide both 5 years and 10 years of COE renewal for Commercial Vehicles. However, please take note that a commercial vehicle is only allowed a maximum of 20 years statutory lifespan on the road.
Fill out our Commercial Vehicle COE Renewal Form now to know more about our latest promotional rate!
2.98%
PROMOTIONAL
COE LOAN RATE
17 YEARS
EXPERIENCE IN THE
AUTO FINANCE INDUSTRY
Check out what our customers are saying about us: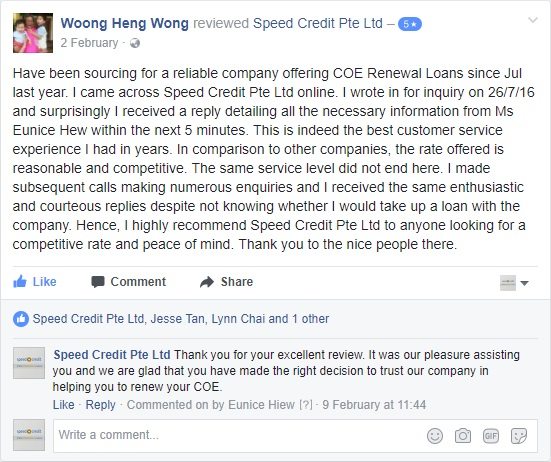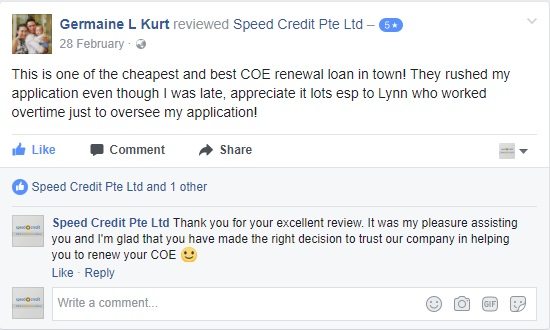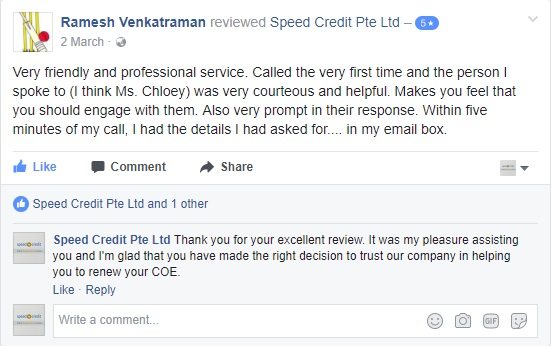 Requirements for Loan Submission
Company Loan Application
Applicant (Company)
1. Loan Application Form (Chop & Signed)
2. Clear Copy of Acra (Printed Within 3 months)
3. Latest 3 Months Bank Statement
4. Vehicle Log Card / Acknowledgement
Guarantor (Director of Company)
1. Loan Application Form (Sign Only)
2. Clear Copy of NRIC (Front & Back)
3. Income Documents (Any of the following)
Latest 6 Months CPF
2 Years Notice of Assessment
Latest 3 Months Computerised Payslip
Application Process
Call us at 6444-4400 to speak to our car finance representative. Alternatively, you can simply fill out our online enquiry form for a much faster processing.
Wait for our car finance specialists' reply or instructions.
Submit all the required documents via fax (6444-4455) or email (loan@speedcredit.com.sg)
Once all documents are completed, we will submit your In-house COE Renewal Loan Application immediately.
We will notify you within 1 working day regarding the status of your application.
Once your used car loan application is approved, our car finance specialist will contact you for further instructions.
Commercial Vehicle COE Renewal Loan FAQs
Do I still need to go down to LTA to renew my COE?
No, we provide free dispatch service and will assist to process all documentation for you.
What is the interest rate? Repayment period?
Interest rate varies from time to time, please fill out
online enquiry form
and our loan advisors will contact you. Maximum 7 years repayment period.
Is there any admin fee?
There is a one-time admin fee and it varies from the range of loan packages we offer.
What is the maximum financing amount for COE renewal loan?
We provide 100% financing base on the PQP amount.
What are the minimum requirements in order to get a loan?
$2,000 of monthly income, no trace of bankruptcy, age not exceeding 65 years old. Having said that, we can still consider and approve on a case by case basis.
What will my monthly instalment likely to be?
We'll assess and work out a quotation, and email it to you.
What are the required documents for loan application?
Application form, copy of hirer's NRIC, income proof and vehicle log card / details.
How do I apply?
Submit online via our
online enquiry form
found on this page or call us and we will guide you through.
What is the procedure like?
From loan submission, loan approval, signing of agreement to COE renewal.
How long will it take to renew my COE?
Processing time takes approximately 1 week time.
How long will it take for loan approval?
Loan approval takes from 1 to 3 days.
What are the available payment modes for monthly instalment?
For monthly instalment, you can pay in cash over Speed Credit counter, cheque, interbank transfer or GIRO.
Can I apply for the loan if I'm not the car owner?
No, the applicant must be the car owner.
What is the early settlement penalty?
Early redemption penalty (1) Rule of 78 (20% of interest rebate) + (2) 2% of Outstanding payable
What is the minimum loan amount and loan period?
Minimum loan amount and tenure of the loan are $10,000 and 12 months respectively.
When is the best time for me to submit the application?
4-6 weeks before COE expiry date.
How do I submit my application? Walk-In or via Email?
Both methods are welcome, but we prefer applications to be submitted via email.
Is it compulsory for me to renew my insurance from your company?
No, you can renew on your own but if it is renewed through us, we can match or lower whatever quotation you received.
Can I do the early renewal?
Sure, you are allowed to do so.